Skeletal Semi Trailer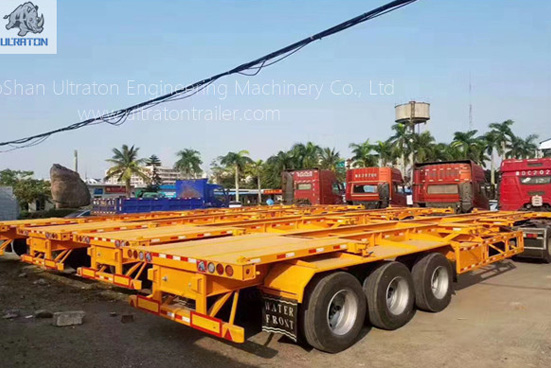 The traction pin mounting plate takes into account more road conditions and is flexible and stable. The girder has the advantages of load-bearing, earthquake resistance and anti-jump box. Considering the stability of the skeleton, the butterfly-shaped stress relief hole was added to the design.
Ultraton has 20ft skeletal trailer for sale, with perfect design and strong materials.
Skeletal Semi Trailer For Sale
What is a skeletal trailer?
Skeletal Semi Trailer has no bottom plate and can only be used for transporting containers. As the trend and demand for simpler and lighter weight design, Skeleton Semi Trailer is becoming the most common and popular in container semi-trailer widely used in most countries in the world.

According to the frame longitudinal beam structure, Skeletal Semi Trailer can also be divided into gooseneck type, straight type, concave type. The frame of the fixed-length container semi-trailer is a space frame welded structure, which is formed by welding two I-shaped longitudinal beams and a plurality of beams (C-shaped channel steel). The front part of the front frame is connected with the semi-trailer Kingpin and Fifth wheel.
The container is directly placed on the semi-trailer frame, and the container is fixed and locked with a twist lock device equipped on the beam end.
Ultraton Series Skeleton Semi Trailer has 2-axle 20ft Skeleton Semi Trailer, 3-axle 20ft Skeleton Semi Trailer, 2-axle 40ft Skeleton Semi Trailer, 3-axle 40ft Skeleton Semi Trailer for your choice. Customized design is also welcome.
I-shaped longitudinal beam is welded by submerged arc welding machine by the superior quality of low alloy carbon steel with good mechanical properties on yield strength, tensile strength, elongation, curving ratio, impact energy, etc.. Our technical staff, who are responsible for welding, often participate in training to improve skills better. The whole body of the chassis frame of Ultraton Skeletal Semi Trailer is processed by shot blasting machine to eliminate welding stress and ensure long-lasting rust-proof. The pre-assembly and welding are finished on a specific assemble platform to ensure the precise measurement and durable structure.