Flatbed Semi Trailer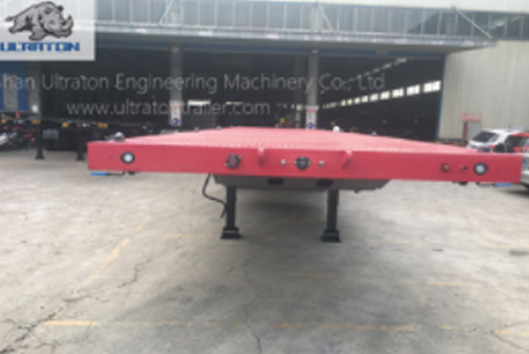 According to the structural characteristics, Container Semi-Trailer can be divided into Flatbed semi-trailers and Skeleton Semi-Trailer. The main difference between the Flatbed Semi Trailer and Skeleton Semi Trailer is that the outer frame and diamond pattern floor plate is added. Container Flatbed trailers are mainly used in logistics systems for ships, ports, routes, highways, transfer stations, bridges, tunnels, and multimodal transport. Why are there still many people choose Flatbed Semi-Trailer while it has heavier tare weight than Skeleton Semi Trailer? Flatbed Semi-Trailer has a bottom plate (cargo platform) and can also be widely used to transport ordinary goods. That is the reason why Flatbed trailer is also very popular for logistic as it has multiple functions.
Flatbed Semi Trailer For Sale
Same as Skeletal Semi Trailer, as current standard containers are available in standard sizes of 20 ft, 40 ft, 45 ft, and 48 ft (The world's uniform ISO standard), most of the Flatbed Semi Trailers currently in use are standardized general-purpose products, such as 20, 40, 45, 48-foot fixed-length. Ultraton Series Flatbed Semi Trailer is available with 2-axle 20ft Flatbed Semi Trailer, 3-axle 20ft Flatbed Semi Trailer, 3-axle 40ft Flatbed Semi Trailer, 3-axle 40ft Flatbed Semi Trailer for your choice. Customized design is also welcome. The frame is welded by longitudinal beams, cross beams, front and rear end beams. The longitudinal beams are made of high-quality steel plate submerged arc welded to form I-shaped (main size 450, 500). The cross beams are stamped into C shape by high-quality steel plates. The front and rear end beams are welded in rectangular section. An integral long beam is arranged at the intermediate container locking position to improve the carrying capacity of the container locking device. The whole frame of the frame is processed by shot blasting machine and is assembled and welded on a special positioning gantry. All these details are for durable structure, higher strength and perfect appearance.