Standard Semi Trailer Size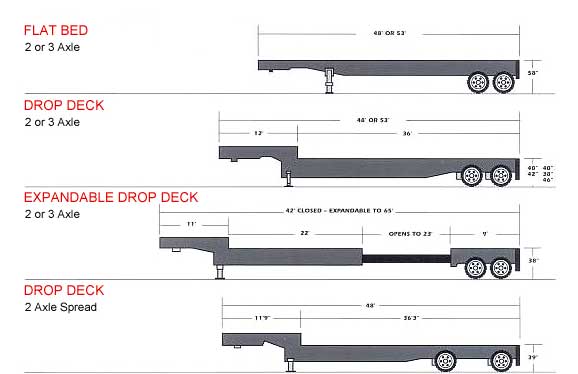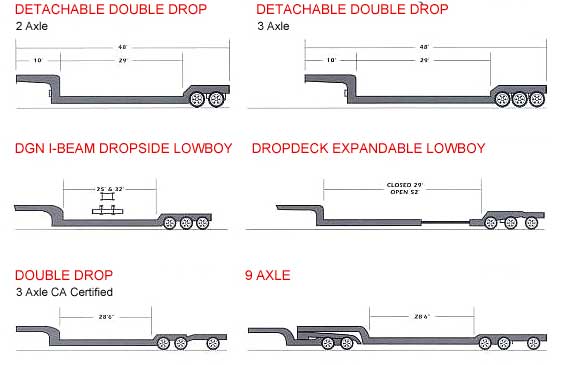 | | | |
| --- | --- | --- |
| Model | Size | Packaging/Mode of transport |
| 20FT skeleton semi trailer | 7580X2480X1480mm | container |
| 40FT skeleton semi trailer | 12400X2480X1500mm | container |
| Container Terminal Semi Trailer | 12400X2480X1500mm | container |
| 45FT skeleton semi trailer | 13500X2500X1500mm | container |
| 40FT flatbed semi trailer | 13500X2500X1500mm/13500X2500X2700mm | container |
| Semi Side Dump Trailer | 13500X2500X2700mm | Ro-ro ship |
| Semi End Dump Trailer | 8000X2480X3750mm | container |
| Semi Tanker Trailer | 20m³/40m³/45m³ | Ro-ro ship |
| Bulk Cargo Semi Trailer | 12460X2500X2700mm/12460X2500X4000mm | container |
| Side Wall Semi Trailer | 12460X2500X2700mm | container |
| Fence Semi Trailer | 12460X2500X4000mm | container |
| Low Bed Semi Trailer | 12000X2480X2960mm | Ro-ro ship |
Semi Trailers Vs Full Trailers
The full trailer is a type of trailer that has front and rear axles. It is fixed to the tractor unit, which means a full trailer cannot be separated. A drawbar for pulling or towing is also often seen on a full trailer. The semi trailer, however, is different from a full trailer in that it doesn't have a front axle. People say that a semi trailer is the union of a truck and a trailer. It can be easily and flexibly detached from the truck.
Why semi trailers dominate on the roads now?The most prominent strength of semi trailer lies in its flexibility. A semi trailer can be easily connected and detached. If the tractor goes wrong, a semi trailer is able to coupled to another s tractor, which will ensure on-time delivering of the loads or goods. The turning circle of semi trailer is smaller than a full trailer. Besides, semi trailer has longer cargo bed than full trailers, so the former is able to load more goods.
The bad news is a semi trailer is more likely to tip over because the center of gravity of it is higher than the full trailer. And people tend to cost more to maintain the semi trailer.
Tips For Purchasing a Semi Trailer
Are you looking for a semi trailer for your truck? Then you should take plenty of things into consideration. The very first thing, the semi trailer bought needs to be compatible with the truck that it is going to work with. Cost is another important element. You are expected to know that the cheapest semi trailer may not give you what you want. Therefore, looking into the reliable price range of the type of semi trailer you are looking for is also necessary. The following tips may also help you to buy a right semi trailer:
Ask more questions to get more information from the seller. A reliable seller will be glad to answer any question you put forward, so don't feel embarrassed to ask questions. List everything you want to know before you go to a seller.

Inspect the trailer seriously and completely. You are supposed to take time to check the semi trailer closely. Turn to a professional mechanic for help, and he knows what part of the trailer should be inspected.

The price of the trailer isn't the only thing you should look at. Think about the cost of owning a semi trailer as time goes by. Issues such as trailer maintenance and repair, components replacement and used semi-trailer for sale are things you need to consider.
Safety Considerations for Operating A Heavy-duty Semi-trailer
The three most important pieces of information about the safety considerations for operating a heavy-duty semi-trailer are:
Maintaining proper weight distribution is important for safe operation.
Drivers should be properly trained and licensed to operate heavy-duty vehicles.
Regular inspection of the trailer is necessary to identify defects or wear and tear.
What are the Different Types of Semi-Trailers?
Semi-trailers are an integral part of the transportation industry. They come in various types, each designed to handle different cargo types and serve specific purposes. Here are some of the different types of semi-trailers:
1. Flatbed Semi-Trailers
Flatbed semi-trailers are a common type of semi-trailer with a flat, open-top deck. They are used to haul heavy and oversized cargo that cannot fit inside an enclosed trailer. The deck is usually made of wood, steel, or aluminum and can be customized to suit different cargo types.
2. Refrigerated Semi-Trailers
Refrigerated semi-trailers, also known as reefer trailers, are designed to transport perishable goods at a specific temperature. They have a built-in refrigeration unit that keeps the cargo at a constant temperature, protecting it from spoiling or damage. These trailers are commonly used to transport food, pharmaceuticals, and other temperature-sensitive goods.
3. Dry Van Semi-Trailers
Dry van semi-trailers are enclosed trailers that protect cargo from the elements. They are versatile and can be used to transport various goods, such as electronics, furniture, and clothing. These trailers are commonly used in the retail industry to transport goods from distribution centers to retail stores.
4. Lowboy Semi-Trailers
Lowboy semi-trailers, also known as low bed trailers, are designed to transport oversized and overweight cargo that cannot be carried by standard semi-trailers. They have a low ground clearance and a drop deck, making it easier to load and unload heavy equipment such as bulldozers, cranes, and excavators.
5. Tanker Semi-Trailers
Tanker semi-trailers are designed to transport liquids and gases, such as oil, gasoline, and chemicals. They have a cylindrical tank mounted on a chassis, which is usually made of steel or aluminum. Tanker semi-trailers are commonly used in the oil and gas industry and chemical industry.