45m³ Semi Tanker Trailer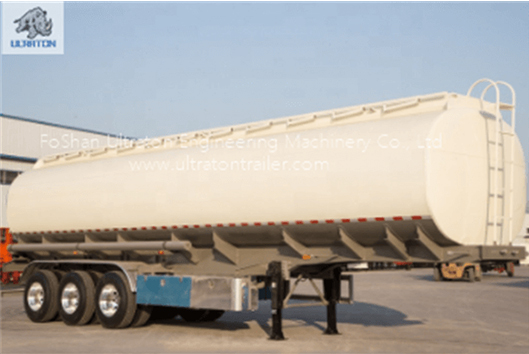 Ultraton 45m3 Tank Semi Trailer is an ideal model with a bigger effective volume and different numbers of compartments as a wise solution to transport fuel. It can be modified according to customer's requirement.
Overview

Advantage

Application

Other notes
Overview of 45m³ Semi Tanker Trailer
Heavy duty and extra durability designed for chassis frame and main beam.

Thickness of top plate, side plate and bottom plate of tank barrel could be customized.

Steel material we use on barrel, bulkhead and baffle is carbon steel Q235B.

Shape of end plate is optional for dish shape, elliptic flanged type in comply with standard.

Welded by automatic submerged-arc process and skilled technicians. Complete chassis shot blasting to clean rust.

Optional for one or more compartments.

All tank fittings are strictly selected domestic famous brand for filling and unloading system and safety protection system.

Superior quality and famous brand we use on specific different trailer parts. Details are outlined as below.
Advantage of 45m³ Semi Tanker Trailer
Different shape and material of tank is optional for solution.

Shipped both by container, or RORO, bulk shipment.

Nice and attractive appearance with our good workmanship.

Trailer parts as core components are of superior quality and complete service.

Distinct location to get full range support on delivery and manufacturing.

Ultraton's long term tenet to be your reliable partner bringing you Greater value makes you worry free on after sales service.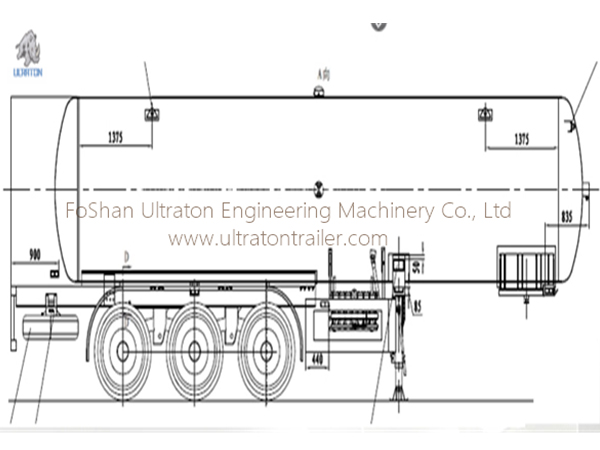 Technical Parameter
45m³Tanker Semi Trailer
TANK BARREL
Tank Profile
Elliptical, Straight, Maximum profile design that maximizes volumetric capacity whilst achieving a low centre of gravity.
Design Code/Testing
According to china standard,refer to ADR Standard.
Hydrostatic test to 5 psi (35 Kpa) on each compartment
Capacity
45000L plus maximum 5% Ullage.
Main Beam
Carbon stee Extrusion , full-length main frame.
Roll Over Coaming
Carbon steel Extrusion in inverted "U" section, for roll over protection.
At least 30mm above any fittings on the top of the barrel, 3/8" degassing plug at the front-top & rear-bottom.
FITTINGS AND PIPING
Manhole Cover
Domestic manhole cover, with relief valve(top inlet for oil), Pressure Vacuum Vent, overfill hole and vapour transfer vent hole ( *5)
Pressure Vacuum Vent
Domestic, roll-over type incorporates with manhole cover (*5)
Vapour Vent
Domestic, sequential pneumatic control air vent (*5)
Vapour Recovery Hose
3" hose, connected with vepour vent to the left side coaming rail, Stainless steel hose clips as need.
Vapour Recovery Piping
4" Carbon steel pipe from rear right side roll over coaming to rear of the barrel, outside of the barrel, connected with vapour recovery adaptor.
Vapour Recovery Adaptor
Domestic with pneumatic vapour interlock valve and dust cap, install at rear right side of the barrel. (*1)
Vapour Dump Vent
Domestic, air operated, dump vent close when the vapour adaptor is activated, installed at the rear right inner side of roll over coaming, vented to atmosphere. (*1)
Emergency Valve
pneumatic controlled emergency valve at all compartments, flange coupling to discharge pipe (*5)
Discharge Piping
4" Carbon steel discharge pipe to the right side of trailer with minimum number of bends. Piping to be hydro-statically tested. The piping slope toward front at angle of 2-3 degrees.
Loading & Discharge Valve
DN 80 du type FIDLOCK aptor c/w flange type sight glass & dust cap on the right side at centre of tanker. The offset distance from centre to centre of API is 300mm. (*5)
Overfill Prevention
Civacon 5 wire optic probe installed to manhole cover, 1 piece Civacon 10 pin, 3J slot plug socket installed above the discharge control cabinet. (*5)
Probe need to be set at minimum 25mm above top full ullage marker in each compartment.
RUNNING GEAR
Landing Gear
Standard 28Ton , FUWA Brand
Axle
Standard FUWA Brand / ULTRATON Brand
Optional : BPW Brand or HuaJing Brand
Suspension
Mechanical Suspension/Air Suspension,Standard FUWA Brand/ULTRATON Brand
Optional : BPW Brand or HuaJing Brand
Tire
12.00R22.5 Tubeless
Rim
9.0*22.5
Shot Blasting & Painting
Shot Blasting and Sanding Treatment . Two Coat Of Anti Corrosion Primer and
Two Coat Of Finish Painting
Tool Box
1 Standard (The Tool Box Size Can Be Tailored To Suit Your Needs)
We Can Build The Trailer According To Customer's Design And Requirement.
Application of 45m³ Semi Tanker Trailer
Ultraton's 45m3 Tank Semi Trailer could be used to transport different oils dispensed separately or in separate positions.
Other notes of 45m³ Semi Tanker Trailer
Pre-sales Services
Communicating with customers, analyze their needs.

Providing professional technical solutions with drawing.

Offering customer quote in FOB or CFR etc .
Payment: 50% TT advance before production, 50%TT before shipment is preferred
Delivery:
We are long term partner with many famous shipping lines and forwarders i.e. COSCO, ONE, PIL, MSC, CMA, etc. We arrange
Provide best feasible and effective packing way and timely manner.

Arrange shipping space booking, customs clearance, etc.

Make an appointment for product inspection if required.

Prepare necessary documents for customs clearance.

Track delivery status until you receive the cargo.
Shipping: Sea/ Railway/ Road transportation subject to your location
Packing: CBU or SKD in seaworthy Export Standard