Welded KingPin Series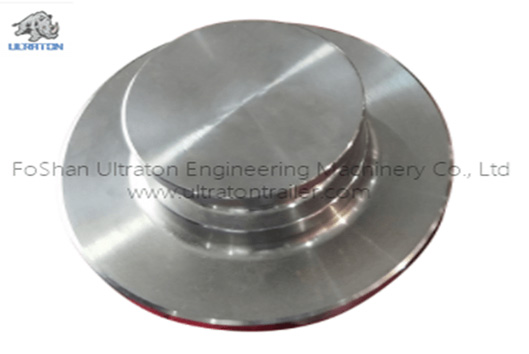 A King Pin refers to a metal part that is fixed under the front end of a trailer. It is a mechanical device on the trailer and is used to fix the trailer on the road tractor. FUWA Welded King Pin Series is an integrated type for a strong connection of semi-trailer and fifth wheel. You are able to purchase the genuine Fuwa Welded King Pin Series here in Ultraton.
Overview

Advantage

Application

Other notes
Overview of Welded KingPin Series
Manufactured from high tensile drop forging and heat treated.

Types are complete and optional for welded series and bolt-in series.

Advanced workmanship and superior quality of steel material.

In comply with national standard and ADR.
Advantage of Welded KingPin Series
Mature technology, could be produced in large quantity at competitive cost


Shipped both by container, or bulk shipment.

Nice and attractive appearance

Fast response and flexible service from our professional team

Distinct location to get full range support on delivery and manufacturing

Ultraton's long term tenet to be your reliable partner bringing you Greater value makes you worry free on after sales service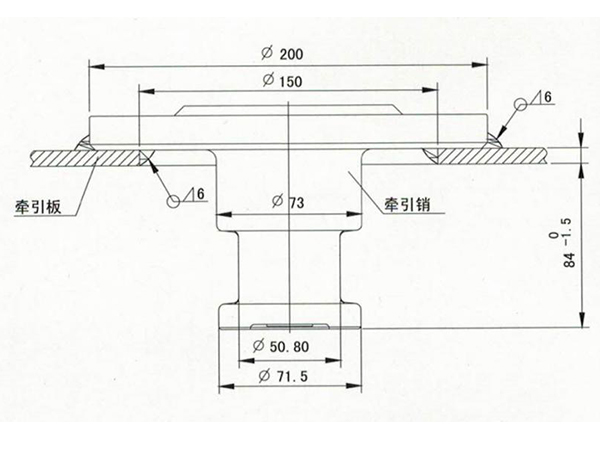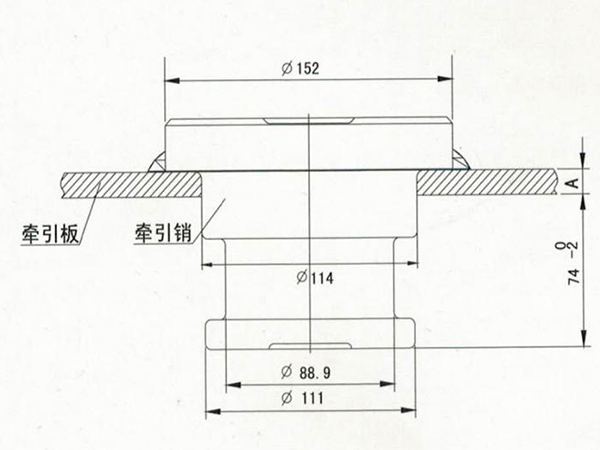 2''Welded Kingpin

Model

D-Value(KN)

Skid Plate Thickness

KPEW208

108

8

KPEW210

108

10
3.5''Welded Kingpin

Model

D-Value(KN)

Skid Plate Thickness

KPEW9010

174

10

KPEW9012

174

12

Kingpin Instruction

The Function Of Kingpin Is To Engage The Semi-Trailer To The Fifth Wheel. The Kingpin Is The

Most Critical Component Used In The Load Transfer From Semi-Trailer.

Making A Selection

The D-value And The Thickness Of The Welding Plate Are Two Considerations In Making A Kingpin Selection For A Semi-Trailer Design. The Actual D-value Of The Selected Kingpin Must Be Larger Then The Calculated D-value . Then Determine The Thickness Of The Skid Plate.

2. Kingpin Installation

Welding On A Channel Support For The 2 Inch Welded Kingpin,Must Be More Than 110mm Between Welds.

3. Kingpin Operation

Operation Of The Semi-Trailer Will Cause Normal Wear On The Kingpin, Due To Abrasion. The Following Are The Limits Of Wear Allowable:

2'' Kingpin: A ≥49mm 3.5'' Kingpin: C ≥86mm

B ≥71mm D ≥112mm



Application of Welded KingPin Series
FUWA Welded King Pin series is applicable on any Ultraton Semi Trailer as critical part to connect tractor and trailer.
Other notes of Welded KingPin Series
Pre-sales Services
Communicating with customers, analyze their needs.

Providing professional technical solutions with drawing.

Offering customer quote in FOB or CFR etc .
Payment: 50% TT advance before production, 50%TT before shipment is preferred
Delivery:
We are long term partner with many famous shipping lines and forwarders i.e. COSCO, ONE, PIL, MSC, CMA, etc. We arrange
Provide best feasible and effective packing way and timely manner.

Arrange shipping space booking, customs clearance, etc.

Make an appointment for product inspection if required.

Prepare necessary documents for customs clearance.

Track delivery status until you receive the cargo.
Shipping: Sea/ Railway/ Road transportation subject to your location
Packing: CBU or SKD in seaworthy Export Standard