FW20 Type Heavy Duty suspension Series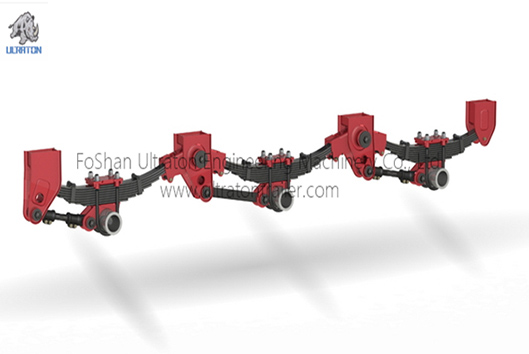 Overview

Advantage

Application

Other notes
Overview of FW20 Type Heavy Duty suspension Series
Heavy duty and extra durability designed in comply with National Standard and ADR

Material of superior quality option for SUP9 or 60Si2Mn for leaf spring

Typical structure consists of elastic elements, shock absorbers, and guiding mechanisms serve as buffering, damping and force transmission

Equipped with 10x100x16 leaf spring

Design for 2 or 3 axles installation with 20ton each

Applicable for both round beam trailer axle and square beam trailer axle

Installation is applicable for overslung and underslung
Advantage of FW20 Type Heavy Duty suspension Series
Mature technology and reasonable design ensure good quality and competitive cost

FW20 Type Heavy Duty Suspension Series uses steel leaf spring as the spring element, to achieve stronger rigidity and strength

The grinding block's angle is consistent with the direction in which the leaf spring is forced to expand.

Design of grease lubrication nozzle helps reduce sliding friction between the leaf spring and the equilizer wear block

Reasonable design can effectively reduce the friction of the tire and prolongs the service life of the tire during the process of frequent vehicle running.

Simple structure makes easy maintenance

Distinct location to get full range support on delivery and manufacturing

Ultraton's long term tenet to be your reliable partner bringing you Greater value makes you worry free on after sales service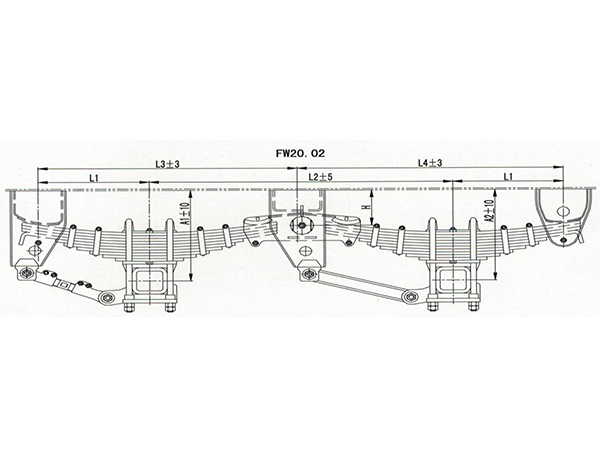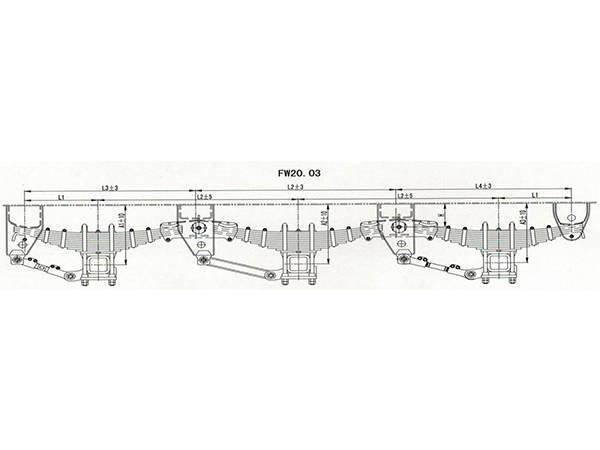 FW20.02 Tandem Suspension With Ten Leaf Springs. Dimension:10*100*16

Model

Height Of Towing Plate (mm)

A1(mm)

A2(mm)

L1(mm)

L2(mm)

L3(mm)

L4(mm)

H(mm)

Axle Load (KG)

FW200201A

1180

489

481

495

1310

1135

1165

183

20,000*2

FW200202A

1220

529

521

495

1310

1135

1165

223

20,000*2

FW200203A

1250

559

551

495

1310

1135

1165

253

20,000*2

FW200201B

1180

470

462

495

1310

1135

1165

164

20,000*2

FW200202B

1220

510

502

495

1310

1135

1165

204

20,000*2

FW200203B

1250

540

532

495

1310

1135

1165

234

20,000*2

Note: (1) Dimension 'A': Unladen, Rated Laden'A*'=A-30

(2) Suitable For Round/ Square Axles

(3) Tightening Torque

Torque Arm Pin Nuts:850-900N.M.

Torque Arm Pin Bolts:120-160N.M.

Equailser Shaft Nuts:350-400N.M.

'U' Bolts Nuts:600-650N.M.

Drop Out Bolts:12-140N.M.

FW20.03 Tri Suspension With Ten Leaf Springs. Dimension:10*100*16

Model

Height Of Towing Plate (mm)

A1(mm)

A2(mm)

A3(mm)

L1(mm)

L2(mm)

L3(mm)

L4(mm)

H(mm)

Axle Load (KG)

FW200301A

1180

505

496

483

495

1310

1135

1165

183

20,000*3

FW200302A

1220

545

536

523

495

1310

1135

1165

223

20,000*3

FW200303A

1250

575

566

553

495

1310

1135

1165

253

20,000*3

FW200301B

1180

486

477

464

495

1310

1135

1165

164

20,000*3

FW200302B

1220

526

517

504

495

1310

1135

1165

204

20,000*3

FW200303B

1250

556

547

534

495

1310

1135

1165

234

20,000*3
Application of FW20 Type Heavy Duty suspension Series
FW20 Type Heavy Duty Suspension Series is widely applicable on any Ultraton Semi Trailer such as Fence Semi Trailer, Wall Side Semi Trailer, Flatbed Semi Trailer, Low Bed Semi Trailer etc. in need of high standard.
Other notes of FW20 Type Heavy Duty suspension Series
Pre-sales Services
Communicating with customers, analyze their needs.

Providing professional technical solutions with drawing.

Offering customer quote in FOB or CFR etc.
Payment: 50% TT advance before production, 50%TT before shipment is preferred
Delivery:
We are long term partner with many famous shipping lines and forwarders i.e. COSCO, ONE, PIL, MSC, CMA, etc. We arrange
Provide best feasible and effective packing way and timely manner.

Arrange shipping space booking, customs clearance, etc.

Make an appointment for product inspection if required.

Prepare necessary documents for customs clearance.

Track delivery status until you receive the cargo.
Shipping: Sea/ Railway/ Road transportation subject to your location
Packing: CBU or SKD in seaworthy Export Standard