FUWA Full Drop axle Series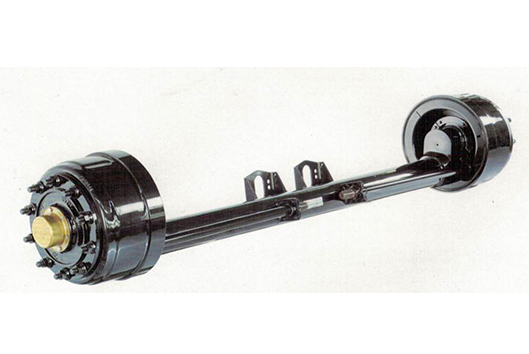 FUWA Full Drop Axle Series is a special design that the straight shaft with the shaft head and the shaft tube on a different axis.
Overview

Advantage

Application

Other notes
Overview of FUWA Full Drop axle Series
Innovated axle beam design to meet special purpose need on low loading support surface

Special processed spindle with induction hardened bearing journals

Spider camshaft and anchor pin bores are machined with reference to the spindle after the welding operation

High performance non-asbestos brake linings of good quality and service life

Improved seals at camshafts for better and safer grease lubricant

Axle beam is available with round 127mm diameter

Track length and camshaft length could be customized

Axle meets USA and Australian standard



Advantage of FUWA Full Drop axle Series
Mature technology and workmanship offers more stability, greater capacity and longer service life.

Special processed spindle journals provide superior fatigue capability.

Accurate machining process increases stability and braking performance.

Strictly selected sealing parts protect braking safety.

Unique axle beam design can meet complicated road condition.

Ultraton's long term tenet to be your reliable partner bringing you Greater value makes you worry free on after sales service.
Axle Model

105 (km/h)

Max. Capacity (kg)

'S' Cam Brake Series ø* Width(mm)

Track TR (mm)

Spline No.

Axle Beam (mm)

Spring Seat Installation

Center Distance Of Chamber

Wheel Fixing

Total Length OL(mm)

Recommended Wheel

Note

LM

(mm/Inch)

CL(mm)

AC(mm)

Studs(mm)

P.C.D.(mm)

ø H (mm)

FN7037-003

9,000/20,000

S 420*180

2298.5/905

28

○127

717/28.25

266.7

1612

10*M22*1.5 ISO

285.75

221

~2627

7.5V-20

FUWA 6' Full Drop Axle

FN7037-002

9,000/20,000

S420*180

2600/102

10

○127

450/17.7

809

500

10*M22*1.5 ISO

335

281

~2600

22.5*8.25

FUWA 5' Full Drop Axle

Note: Axle Head: FN Inner: HM218248/10 Outer: HM212049/10

Axle Head: FH Inner: HM218248/10 Outer: HM218248/10



Application of FUWA Full Drop axle Series
FUWA Full Drop Axle Series is recommended to use on special-purpose environments, special-purpose Tank Semi Trailer, in order to achieve more load capacity and meet road traffic. The requirements of the rules, especially for semi-trailer vehicles using double-deck loading platform structures, require a lower loading bearing surface, one to reduce the height of the vehicle, and the other to reduce the center of gravity of the load.
Other notes of FUWA Full Drop axle Series
Pre-sales Services
Communicating with customers, analyze their needs.

Providing professional technical solutions with drawing.

Offering customer quote in FOB or CFR etc .
Payment: 50% TT advance before production, 50%TT before shipment is preferred
Delivery:
We are long term partner with many famous shipping lines and forwarders i.e. COSCO, ONE, PIL, MSC, CMA, etc. We arrange
Provide best feasible and effective packing way and timely manner.

Arrange shipping space booking, customs clearance, etc.

Make an appointment for product inspection if required.

Prepare necessary documents for customs clearance.

Track delivery status until you receive the cargo.
Shipping: Sea/ Railway/ Road transportation subject to your location
Packing: CBU or SKD in seaworthy Export Standard